HIGHLIGHTS
Protect your dog from grueling joint pain

Beef flavored for easy consumption
Features Glucosamine, Chondroitin, & MSM
Powder delivery system for exact dosage
Great source of vitamins E & B
Manufactured in the USA
SUGGESTED USAGE
Sprinkle directed dosage onto dog's food once daily
Feed on a consistent daily basis for best results
Pairs extremely well with Vitality Krill Oil for Dogs
PRODUCT FACTS
Form: Powder




Serving Size: 1 scoop (approx 2.66 g)




Number of Servings: 45




Product Weight: 4.2 oz 



HEALTH INTERESTS 
Joint Health




Arthritis




Aging Dogs




Hip Dysplasia




Limber Tail



Benefits
We leaned on our brainiac nutritionists to craft the best possible joint supplement for dogs on the market today. Our goal from day 1 was to fill the space in the market for a joint supplement designed for the ground up for high activity, working dogs. You don't have to settle for the same old joint supplement intended for everything from Grandma's Chihuahua to your hard-working 7 year old labrador retriever.
Free Range joint supplement for dogs is packed with all the nutrients that your dog needs to prevent grueling joint pain, without all the harmful additives & fillers that other brands use. Our joint supplement for dogs is a powder form, meaning you can dial the dosage up or down to get things just right to match your dog's needs.
Glucosamine
If you talk with your veterinarian about a dogs joint problems, one of the most best nutrients they are going to recommend to look for in joint supplements for dogs inflammation is glucosamine hydrochloride. This all-natural ingredient is surely going to give your pet plenty of relief. Often derived from natural sources like shellfish, Free Range offers 700 mg per serving in powder form.

Chondroitin
Another nutrient that your veterinary colleague is going to recommend is chondroitin sulfate. Much like glucosamine, this is often derived from shellfish & helps your canine friend regain joint function & fight joint disease. While other companies use chew tablets for their delivery system, Free Range offers 300 mg per serving in powder form so you can get the dosage just right for your dog.
MSM (Methylsulfonylmethane)
Don't bother even trying to pronounce that! MSM is the final hip care product that your veterinarian is going to make sure your dog's joint supplement has. Derived naturally from fruits, vegetables, & mammals milk, MSM is delivered in Free Range to the tune of 600 mg per serving.
Brewer's Yeast
While this certainly sounds like an odd ingredient to include in hip and joint supplements for dogs, just hear us out on this one. Brewers yeast is very rich in B vitamins (B1, B2, B3, B5, B6, B7, and B9) as well as antioxidants. For our dogs, this ingredient also promotes healthy skin, hair, eyes, and liver function. In addition to these benefits, the high levels of B vitamins may reduce anxiety in dogs, which also helps provide some emotional support if they are dealing with joint pain.
Vitamin E
Vitamin E is an absolutely essential nutrient in the diets of our dogs. Symptoms of vitamin E deficiencies in dogs include poor vision, neurologic abnormalities, reproductive dysfunction and an impaired immune system. By including vitamin E in our Free Range hip & joint supplements for dogs, we are ensuring that your dog has the best possible chance of avoiding these ailments.
Formulated & Manufactured In The USA
This joint supplement for dogs has an incredibly important job to do, and that's to protect our hard working hunting buddies from experiencing grueling joint pain as they age. That's why we lean on experts right here in the USA to ensure that we use only top quality ingredients & state of the art manufacturing processes. Your dog deserves the best, and it's our mission to give it to them.
Trusted By Trainers Across The Country
As we continue to grow, more dog trainers than ever are switching to Free Range Joint Supplement for Dogs than ever. It has become the norm for trainers to supplement dog's nutrition with Free Range during stays with them to keep their joints healthy & to help prevent injuries. Every week we have more & more trainers switching their client's dogs from products like Cosequin, Dosuquin, & GlycoFlex to Alpha Dog Nutrition's Free Range.
Just The Good Stuff
The main thing we set out to do when our brainiac nutritionists formulated Free Range joint supplement for dogs was to purge our product of potentially harmful additives & fillers. If you take a hard look at the inactive ingredients of your dog's current joint supplement, you'll notice a laundry list of ingredients that definitely shouldn't be there. Not with Free Range. Your dog gets only the nutrients it needs to help avoid grueling joint pain, and nothing more!
Proven. Time & Time Again
The amount of incredible feedback we get from people using Free Range Joint Supplement for dogs has been simply amazing. What started as a simple mission to get our founder's dog better nutrition has morphed into a movement across the dog nutrition industry. There are plenty of massive brands attempting to mimic us, but there is only one Alpha Dog Nutrition!
Frequently Asked Questions
When should I use this product?

You can use Free Range Joint Supplement for Dogs in the morning, afternoon, evening or right before bed. There is no specific time required to give your dog this hip & joint supplement, but the most important thing is giving it to your dog consistently. Find a time that works best for you to give it to your dog every day, and stick to that plan.


How is this different than other joint supplements for dogs on the market?

It is certainly no secret that there are hundreds of options for joint supplements for dogs on the market. While some of them are looked up upon as leaders in the industry, we still weren't happy with them - particularly the delivery system & the amount of additives & fillers that they included.




Free Range joint supplement for dogs was formulated to flip the script on that phenomenon. Our goal has always been to give our dogs exactly what they need, and toss out all the ingredients that don't do them any good. That is the only way you are going to be able to combat things like canine arthritis, hip dysplasia, & other hip & joint issues without simply creating additional problems.




The primary difference-makers that separate Free Range from all the other glucosamine supplements, chondroitin supplements include:

Powder delivery system that allows you to dial in dosage based on exactly what your dog's weight requires

Removal of additives & fillers. While other companies use these to make you feel like you are getting more "bang for your buck", we're giving your dog exactly what it needs to help their hips & joints, and nothing more. 

Made in the USA - This is a decision that was made both from a patriotic perspective as well as a quality control perspective. We want the best for our dogs while helping our neighbors, and this accomplishes both of those objectives.

Free Shipping - Every single one of our products ship free. Every time. No minimum order requirement, just simple, free shipping.

How is Free Range different from Cosequin DS & Nutramax Dasuquin?

 

Like we mentioned above, one of our primary goals when we formulated Free Range joint supplements for dogs was to remove all unnecessary additives & fillers. While Cosequin DS & Nutramax Dasuquin are available in only soft chew & chewable tablet forms containing these additives & fillers, Free Range is offered in powder form, absent of these additives & fillers.




Another differentiating factor between Cosequin DS with MSM, Nutramax Dasuquin & Free Range is that Free Range was formulated specifically to help the health of the cartilage in active working & hunting dogs. Cosequin DS & Nutramax Dasuquin was formulated for all forms of pets, including cats.

Who is this product intended for?

 

Free Range joint supplement for dogs is perfect for any active dog that is experiencing joint pain, as well as dogs that may be prone to it in the future. Oftentimes these include dogs that are prone to health issues like arthritis, hip dysplasia, and other things that your pet may need joint pain relief from. 




That's why we included key ingredients like Glucosamine, Chondroitin, & MSM to help prevent inflammation & provide joint care for dogs. 

Why should I be supplementing with Free Range joint supplement for dogs?

 

Glucosamine, Chondroitin, & MSM are some of the most essential building blocks of your dog's cartilage. As the cartilage breaks down, dogs begin to experience joint pain. This is, in essence, is what causes hip & joint pain ailments such as arthritis & hip dysplasia.




By supplementing with Alpha Dog Nutrition's Free Range Joint Supplements for Dogs, you are helping to replace some of those essential building blocks to your dogs cartilage. This supports joint health & helps provide pain relief by bolstering the cushion provided by the cartilage.

Are there other factors that contribute to joint pain & joint deterioration?

 

The primary reason we wanted to formulate and develop a great joint supplement for dogs that work hard & see a tremendous amount of activity is because they are considerably more prone to poor joint health. 




As a dog's joints see activity over the years, they continue to see additional wear & tear. That wear & tear causes deterioration of the cartilage that cushion their joints.




Other things that can cause deterioration of cartilage in the hips, joints, & paws are:




Dogs with Osteoarthritis & Arthritis
Dogs with hip dysplasia
Dogs that are aging
Dogs that seeing high amounts of activity throughout their lives
Dogs that are genetically prone to joint issues




You can fight back against cartilage deterioration & joint pain through a few combined approaches:




Limit high impact exercises in aging dogs (jumping out of a truck, off a bed, etc)
Keeping your dogs in a temperature controlled environment & out of the cold


Support and promote the positive joint health by supplementing with Free Range joint supplements for dogs

Are certain dog breeds more prone to joint issues than others?

While there are certainly some breeds that are more prone than others when it comes to arthritis, it doesn't mean that dog breeds not on this list won't have hip & joint issues. Always keep a close eye on your dog's demeanor & activity level, and remember preventative maintenance is a lot easier than "fixing" aching joints for dogs.




Labrador Retriever
Golden Retriever
German Shepard
English Setter
Bloodhound
German Shorthair Pointer (GSP)
German Wirehaired Pointer (GWP)
Weimaraner
English Pointer

How can I tell if it works?

 

This is the toughest question to answer for us - at least verbally. That isn't because it is actually hard to tell if Free Range is actually working, but because every dog's situation is slightly different when it comes to joint pain and the prevention of it.




If you know your dog well, you're almost definitely going to notice a difference in their demeanor, mental health, & enthusiasm when it comes to physical activity. That is because instead of physical activity being painful, your dog will ultimately be significantly more comfortable during exercise.

 

How long before I should start noticing benefits?

Key ingredients like Glucosamine, MSM, Chondroitin, Brewer's Yeast, & Vitamin E take a few weeks to build up to strong enough levels enhance joint health. That is why it is so important to give your dog our Free Range hip & joint supplement consistently every day.




Results are going to vary from dog to dog, but you should typically start seeing improvement from your dog within 3-4 weeks of consistent daily usage. 

How old should my dog be before giving them Free Range joint supplement for dogs?

 

Typically what we look for is that your dog's bone structure is fully developed prior to starting any kind of joint supplement. For most dogs, their hips and joints are fully mature by 7-9 months of age. At that point it is recommended to start them on Free Range hip & joint supplement to help maintain healthy joints for the years to come.




While your dog is almost definitely going to continue growing after that point, it is typically simply them "filling out" with muscle and gaining weight.

 

Is Free Range Hip & Joint Supplement for Dogs a medication? Are there side effects?

 

While joint supplements are sometimes compared to NSAIDS by consumers, this is not actually a form of medication. It is entirely over-the-counter so you don't need a prescription from a veterinarian to purchase is.




This is a joint supplement for dogs derived from naturally occurring ingredients. We worked with leading doctors in the animal nutrition field to formulate our products, and strongly believe that Free Range is the best joint supplement for dogs on the market today.




If your dog is experiencing extreme joint pain, we highly recommend you see your veterinarian as soon as possible. They will likely use the next step to help make your dog more comfortable, often prescribing NSAIDS as pain relievers & to help reduce inflammation more aggressively.




There have been very few side effects of Free Range joint supplement for dogs observed, but your dog may experience:




Allergies (if they are allergic to shellfish)
Increased thirst




It's worth noting that since we use less ingredients (those additives & fillers aren't present in Free Range), your dog is far less likely to experience an allergic reaction with our product when compared to soft chews or chewable tablets.


Where is Free Range made?

We're incredibly proud to say that Free Range joint supplement for dogs is made right here in the USA. Our goal has always been to provide the highest quality supplements for dogs possible, and you simply can't do that without the stringent quality control processes that we have here in America.

Do you offer a subscription for repeat delivery?

Of course! One of the most important factors in successfully using joint supplements like glucosamine, chondroitin, & MSM is consistency. That means giving it to your dog every day at approximately the same time.




For that reason, we're proud to offer the Subscribe & Save option if you'd like repeat delivery. You'll save 10% on each order, receive free shipping like always, and you'll simply get charged on the same date every month. 




To sum it up, you only have to order once & you'll receive repeat delivery the same time every month! 

How do I pause or cancel the subscribe & save option for repeat delivery?

If you have enough product for the next month already or life happened and you need to save some money, it's incredibly easy to cancel or pause your subscription! Simply log in to your account & select the appropriate option from there. 

When you throw a scoop or two of Free Range on your dog's food every day, you're ensuring healthy joints late into their career. Don't wait for the limping to start. Your dog will thank you!
YOUR DOG IS AN ATHLETE. TREAT THEM LIKE ONE.
Packed With Joint Lubricating Nutrients
65% of dogs over the age of 7 end up with some form of arthritis. For active, hard working dogs like yours, that figure is even higher. Start now. It's easier to prevent joint pain than it is to fix it once it sets in.
FREE RANGE IMPROVES JOINT HEALTH FROM DAY ONE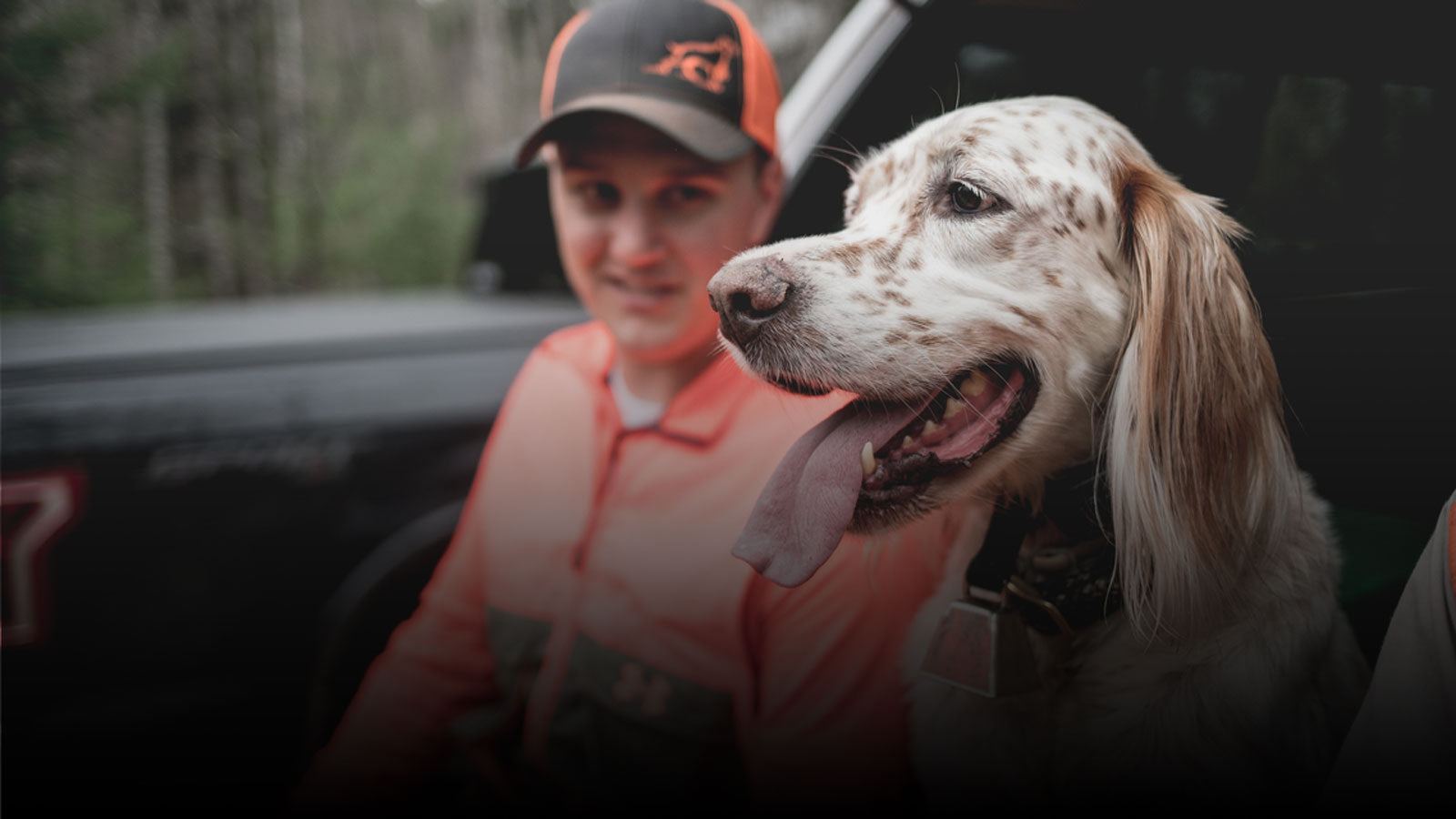 MOVE BETTER & EXTEND THEIR CAREER
WHAT THE PROS HAVE TO SAY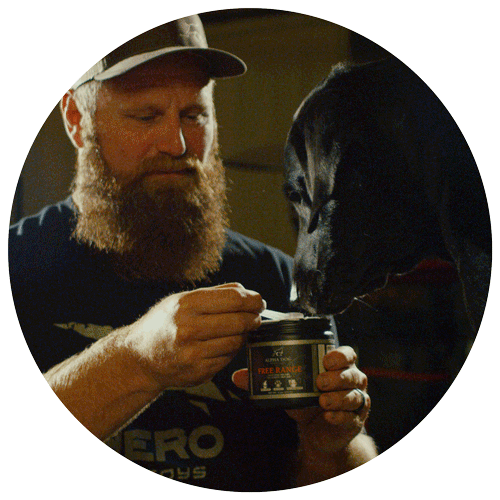 I try to relate it to how we are in sports. The people that put the time & work in are the ones that have the most success on the field.
To go that extra step & take care of maintenance with their joints, coat, & recovery as well is just going to give you more time in the field over their career.

Protect Your Dog's Joints InLess Than A Minute
Simply scoop onto your dog's food once per day to lubricate their joints.
Customer Reviews
Write a Review
Ask a Question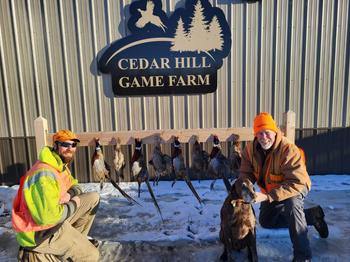 10/11/2023
High energy GSP
My German short hair pointer is covering ground every day. He is eight years old and still thinks he's a puppy. Thanks for your excellent products.
Lynn K.

United States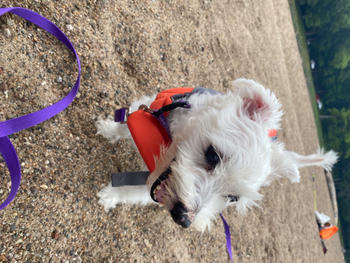 07/11/2023
Spicy old lady
We have been using this product for about 6 months now and our little 17lb 12 year old lady is spicy. She has gotten so much energy back and gives us attitude like none other.
Tiffany O.

United States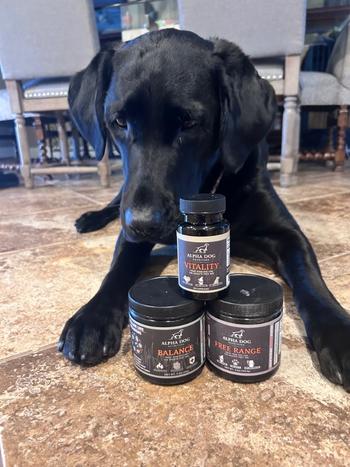 05/16/2023
Fantastic!! I am anxious to see results the longer Zoey is on this! The customer service has been remarkable!
Kiera R.

United States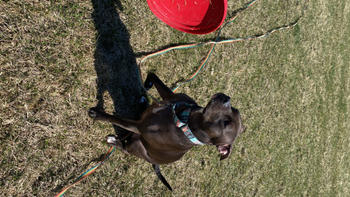 05/16/2023
Alpha dog rocks
We have been using alpha dog for a bit now and our 12 year old schnoodle has more energy than before. Our 3 year old pitbull just loves to play and when we are done she recovers faster.
Tiffany O.

United States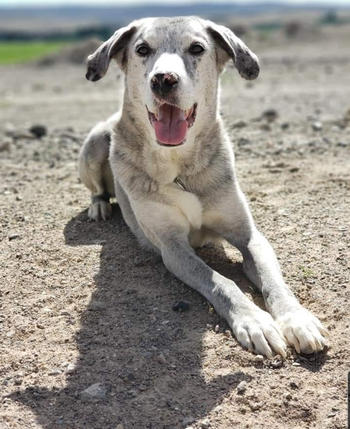 09/24/2022
Took years off!
My dog Grace is 12 years old and has started to slow down. Her legs would sometimes buckle and she had issues standing up and she would look at our stairs and contemplate if it was worth it. After a few months of Free Range she is doing so much better! She even ran after a ball with our other dogs the other day! I couldn't recommend this product enough!
Mary J.

United States
11/23/2023
Love this stuff
Both my dogs do better. (9yo and 3yo lab) Would give this product a 10 star review
Justin B.

United States
09/19/2023
Great product and even better company
My dog has not had any issues so to me pays to be proactive.
Tony C.

United States
10/23/2022
Free range !
So far it's been working great ! Love it for my hunting dog !
Jason B.

United States
08/10/2022
Darby and Nash-upland birds dogs
We've used for two yrs now One scoop for each at morning feeding. We've stuck with alpha dog g based on good results! Energy, coat, recovery
Pat M.

United States
Back to the top