When you throw a scoop or two of Free Range on your dog's food every day, you're ensuring healthy joints late into their career. Don't wait for the limping to start. Your dog will thank you!
YOUR DOG IS AN ATHLETE. TREAT THEM LIKE ONE.
Packed With Joint Lubricating Nutrients
65% of dogs over the age of 7 end up with some form of arthritis. For active, hard working dogs like yours, that figure is even higher. Start now. It's easier to prevent joint pain than it is to fix it once it sets in.
FREE RANGE IMPROVES JOINT HEALTH FROM DAY ONE
MOVE BETTER & EXTEND THEIR CAREER
WHAT THE PROS HAVE TO SAY
I try to relate it to how we are in sports. The people that put the time & work in are the ones that have the most success on the field.
To go that extra step & take care of maintenance with their joints, coat, & recovery as well is just going to give you more time in the field over their career.

Protect Your Dog's Joints InLess Than A Minute
Simply scoop onto your dog's food once per day to lubricate their joints.
Customer Reviews
Write a Review
Ask a Question
10/21/2020
Sean L.
United States
Great Product
My 8 year old lab has had arthritis issues. Started her on Free range and within a few weeks her recovery and limping was noticeably better. What a great product !!
10/15/2020
James S.
United States
10/15/2020
Hannah L.
United States
Fantastic Product and results
I have three Siberian Huskies and a Blue Heeler. Though not hunting dogs these dogs go and go and go all day long. Our oldest Husky has been having joint issues since we rescued him. We've tried everything from CBD to other supplements. Alpha Dog is the only supplement that has helped him. He no longer limps and no longer looks stiff. He is back to being a happy dog again. I 100% believe this is due to him taking Alpha Dog's Free Range.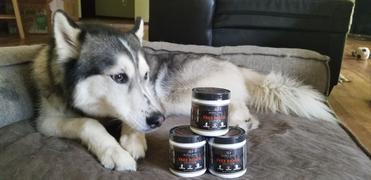 10/13/2020
Christine J.
United States
10/07/2020
Ryan P.
United States
Great Product!!
My one and half year old lab started limping after playing fetch and would limp for a week before seeing her better. Wanted to try her on a product so I researched a bunch and led to me to Alpha dog with a good history behind it which led me to Alpha Dog. My pup has been on the free range for about 3 weeks now and I noticed a big improvement on her limping. I can run her now and play fetch with her without her limping after or the day after which is a big improvement! So yes I definitely recommend this product! Will be buying more! 
Back to the top