When you throw a scoop or two of Free Range on your dog's food every day, you're ensuring healthy joints late into their career. Don't wait for the limping to start. Your dog will thank you!
YOUR DOG IS AN ATHLETE. TREAT THEM LIKE ONE.
Packed With Joint Lubricating Nutrients
65% of dogs over the age of 7 end up with some form of arthritis. For active, hard working dogs like yours, that figure is even higher. Start now. It's easier to prevent joint pain than it is to fix it once it sets in.
FREE RANGE IMPROVES JOINT HEALTH FROM DAY ONE
MOVE BETTER & EXTEND THEIR CAREER
WHAT THE PROS HAVE TO SAY
I try to relate it to how we are in sports. The people that put the time & work in are the ones that have the most success on the field.
To go that extra step & take care of maintenance with their joints, coat, & recovery as well is just going to give you more time in the field over their career.

Protect Your Dog's Joints InLess Than A Minute
Simply scoop onto your dog's food once per day to lubricate their joints.
Customer Reviews
Write a Review
Ask a Question
07/28/2020
Luke H.
United States
07/28/2020
Stephanie V.
United States
Amazing product
I am so happy with this product and so are the pups. I have noticed a significant improvement in pad health. My dogs used to have such dry cracked pads, not any more.
07/27/2020
lezlie g.
United States
Great customer service
I had ordered free range for one of my dogs and somthing went wrong with the order and didn't come to my address so I got in touch and they said it was headed somewhere else so they fixed the order and sent me an extra free bottle of free range! Excrete service and very nice people!
07/27/2020
Timothy S.
United States
07/25/2020
Heidi S.
United States
Those hips don't lie!
My sweet backyard bred mutt, Sam, started limping and occasionally falling up stairs at only one year old. We had a scan of his hips and the balls are totally flat. He's in bad shape...probably due to his terrible genetics. He plays energetically but at the end of the day his joints have been swollen and tender. After his first two months with Free Range, Sam is obviously not in nearly as much pain...sometimes he shows mild discomfort, but the difference has been astonishing. At the end of his busy days he no longer hobbles to bed and the vet says he does not need pain medication yet. Sam will be subscribed to Free Range for years to come. Thank you, Alpha Dog, for helping my big brown baby continue living his life to the fullest.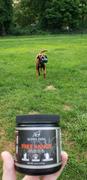 Back to the top