Complete Canine Maintenance Pack
Complete Canine Maintenance Pack

Alpha Dog Nutrition products are shipped within 48 hours and delivered within about 4-7 days.
If you aren't completely satisfied with your product, return the container within 60 days of purchasing for a full refund, even if the containers are empty!
Customer Reviews
Write a Review
Ask a Question
10/17/2020
Mike M.
United States
10/12/2020
Bob P.
United States
Deceiving
The product arrived and is In a very very small container. Very disappointed. My hunting dog works hard every day and with the required serving sizes for this product I would need several containers of the powder products to go a full month. The pics of the product online appear three times the size of the actual product. Bad deal, bad business and last but not least my dog wouldn't even eat the powder products. He only would take the Vitality pill which I put in a pill pouch.
07/07/2020
Matthew D.
United States
Amazing
Cruise was 55 pounds when I got him. He has gained to a healthy and stocky 75 pounds with a "no quit" attitude. Doesn't matter if he is on a pheasant or just day to day trips in the field or on the job site. Your product has helped him over come injuries, exhaustion, and the typical problems you run into with a lab. Gra Ted he is only two years old, you can see the difference in his healing process, overall stamina, and tenacity, boy has no quit in him. Which being a Montana dog is vital to the extremes he willingly faces every day
05/27/2020
Domenic J.
United States
Great survice
Hi, I actually started using your products for my yellow lab Ava after I purchased a hat from your. It is my favorite hat and I have purchased two now. I may have to buy another since I wear it so much. The nutrition supplement i have been giving Ava was at first just a idea that I hoped would help reduce arthritis that many labs encounter through their life..I am not sure yet if it will help that but after a long pheasant hunt I can tell she does not get as sore or take as long to recover. I will continue to give Ava this to help her any way I can to prolong her life since she is my best friend and more than just a dog. I was also able to get the product quickly after ordering which is greatly appreciated. Please let me know how I can upload a picture of Ava I do not see a attachment upload location. Thanks! Domenic Judkins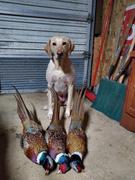 05/21/2020
Dalton W.
United States
Back to the top