LIMITED TIME
SUMMER SPECIAL SAVINGS
Secure Your Puppy's Future Health Today! - Save up to 44% on Essential Vitamins & Minerals!
31 Whole Food Ingredients and Vitamins - Unlike any other product on the market
Formulated for dogs up to 18 months in age
Perfect multivitamin to ensure your pup has the foundation they need to live a long and healthy life
Supports cognitive function to aid in trainability
Made in a cGMP Compliant Facility right here in Wisconsin
Expertly formulated by a PhD Animal Nutritionist
2-year shelf life
No additives, no harmful fillers, no cutting corners - Just great, well rounded nutrition for your puppy!
3rd Party Tested in A Food-Grade Lab to Ensure Top Quality
"I put 4 dogs on OptiPup in my kennel. From 4 months to 18 months. All like the product. Coats are looking awesome. The real factor is probably unseen with the immune system support. Whatever I can feasibly do to bolster their immune systems and overall health is a no-brainer…I'll do it!" - Kieth F.
Joe Scott,
Canine Health Expert
From the desk of Joe Scott:
The Journal of Animal Physiology and Animal Nutrition recently emphasized, according to a retrospective study on the adequacy of puppy foods, the importance of ensuring that diets meet puppies' specific needs.
They reported multiple benefits of proper nutrition, including the following:
Puppies with proper nutrition are less likely to develop illnesses that can cause long-term harm.
The importance of omega-3 fatty acids in a puppy's diet, suggesting potential improvements in muscle growth and overall health.
Proper nutrition plays a critical role in maintaining a lean, active body condition can extend a dog's median lifespan by up to two years.
With all these benefits, however, there's a big risk in supplements commonly marketed as "Puppy Supplements".
All it takes is a quick canvas of "puppy supplements" to realize that the maximum amount of effort most brands undergo is in the marketing of their products is in the marketing - not in the formulation and ingredient selection to ensure it's the best possible product for your pup.
So what did we decide to do about that?
We flipped the entire industry on its head with the development of OptiPup.
This supplement is clean, healthy, whole-food based, additive and filler free, and as complete as you can get with an incredible 31 ingredients:
Whoa...
This is it.
This is exactly what pups have been missing out on all these years.
No one else is coming even close to providing it for them.
And we've got just the team to actually pull this off.
I couldn't be more excited to bring this from just a concept to reality.
What I've found is that regular mass-produced, soft chews and other puppy supplements provide the absolute minimum for folks to take them seriously.
The best puppy nutrition, it turns out, hasn't even been readily available until now.
The formulation we've found is delicious and is the cleanest, most complex, healthiest supplement I've ever seen.
Save 44% now
Here's Just a Few of
The Qualities of OptiPup:
TAILORED FOR PUPPIES
OptiPup is uniquely crafted to fulfill the specific nutritional needs of growing puppies. Each ingredient is carefully selected to support healthy bone development, a robust immune system, shiny coat, and more.
PHD FORMULATED FORMULA
You'll be hard-pressed to find any resistance from even the grumpiest veterinarian for OptiPup.
They are consistently blown away that we've been able to pull off what we've done here.
Our formula is developed by an animal nutritionist with her PhD, ensuring it meets the highest standards of puppy nutrition.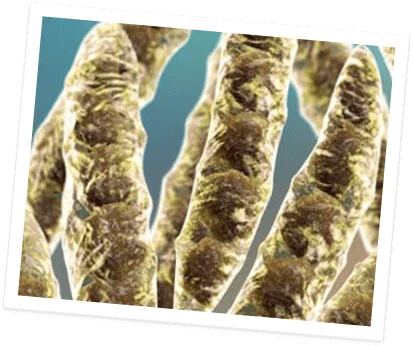 PREMIUM INGREDIENTS
We only use the finest, dog-friendly (and we mean human-grade) ingredients to make OptiPup a nutritional & tasty treat your puppy will love.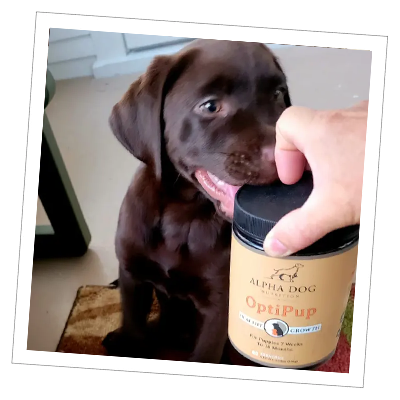 EASY TO FEED
OptiPup comes in a delicious powder form that puppies adore. Simply spread it across your pup's food before you feed them.
No more struggling to get your puppy to take their vitamins - they'll think it's a tasty treat!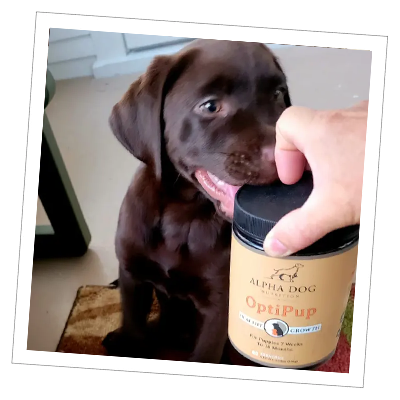 SAFE AND EFFECTIVE
Your puppy's health is our top priority. OptiPup is manufactured in state-of-the-art facilities, adhering to strict quality standards, and is free from any harmful additives or artificial fillers.
I love OptiPup so much, I've had to share it with everyone I know.
What People Have To Say
Today you can get full bottles of OptiPup, large enough for 60 servings each, for 44% off!
This is for new customers only. Limit one per household.
Both you and your pup are going to love this product.
I can't wait to hear about your experience.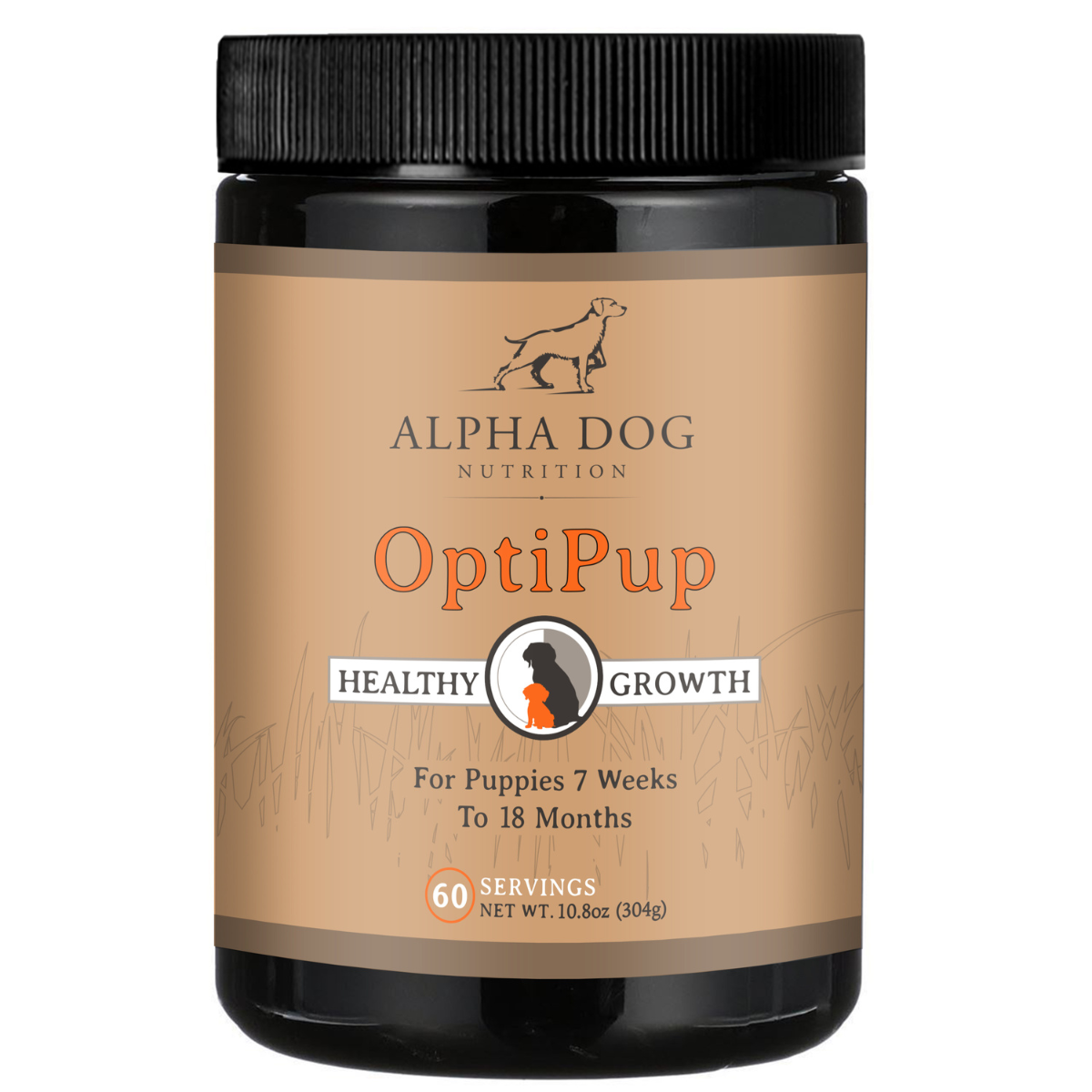 WE'RE HERE FOR YOU: GET
44% OFF

YOUR ORDER WHILE SUPPLIES LAST! (WE'LL EVEN PAY FOR THE SHIPPING!)
Current status:

In stock. Your order will ship within 1 business day.
Choose How Many Bottles You'd Like:
Buy 1, Save 30%
Original Value
A great fit for single pup owners who want the best for their pup. One bottle includes enough OptiPup to last about two months for a 60 lbs dog.
$99.97
Only $69.97
*Plus Free Shipping*
*On Continental US orders only
1 Bottle
Buy 2, Get 40% Off
Great Value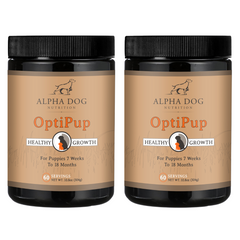 A great fit for the dog owner that loves stocking up and saving. Two bottles includes enough OptiPup to last about 4 months for a 60 lbs dog.
$199.94
Only $119.97
*Free Shipping* +
Save 40% Today
*On Continental US orders only
2 Bottles
Buy 3, Get 44% Off
Great Value
Perfect for those that are truly committed to giving their pup the best life possible. Get enough OptiPup for 6 months for a 60 lbs dog.
$299.91
Only $167.97
*Free Shipping* +
Save 44% Today
*On Continental US orders only
3 Bottles
60-DAY 100% EMPTY BOTTLE MONEY-BACK GUARANTEE
Back when I was in college, I picked up an English Setter puppy. While a college dog likely wasn't the brightest idea for a kid trying to earn an engineering degree, I couldn't have been more excited for the journey ahead.
That dog was Trigger, and little did we know that he would eventually be the main motivating factor for founding Alpha Dog Nutrition. When he turned 7, I knew I wanted to do everything I could to keep him active & healthy as late into his career as possible.
That was over 7 years ago, and while Trigger has since passed over the rainbow bridge, we have a new pup that has some seriously big shoes to fill.
That puppy is named Echo, and while Trigger was the motivating factor for products like Free Range, Resurgence, & Vitality - Echo is the big reason OptiPup exists today.
I was, quite frankly, extremely disappointed with the puppy supplement options on the market at the time and set out to change that.
My hope is that Alpha Dog Nutrition & our OptiPup product will raise the bar for what dog owners expect from the companies they trust to keep their dog healthy.
It's been said a thousand times, but these dogs are like our kids, and most would do as much as they can to ensure they have the best life possible.