Chondroitin Benefits for Dogs
One of the most recommended sources for relief from arthritis, hip dysplasia, and spinal issues for dogs is chondroitin. Chondroitin benefits the cartilage in your dog's joints, keeping that cushion that allows them to run around pain-free healthy. 
While it can also be created in synthetic form, chondroitin is actually a naturally occurring substance found in bovine and shark cartilage. It is also a normal part of the cartilage that acts as a cushion in your dog's joints. 
As your dog ages the chondroitin levels in their bodies will slowly start to lower. This is often a direct result of activity, injuries, or illness that they've experienced over the course of their careers. 
As hunters, we typically witness faster or more drastic drops in these levels than owners of less active dogs simply due to the wear and tear that comes with the miles our dogs put on each season. 
This isn't to say that we shouldn't be hunting our dogs as much as they can - quite the opposite actually. Our dogs love being out in those grouse woods, pheasant field, or duck blind just as much (or more) than we do. Let them enjoy it, but take care of them in the process. That's where the benefits of chondroitin, glucosamine, & MSM come in.
It's important to note that chondroitin can't completely stop the degeneration of the cartilage that cushions your dogs joints, but it can drastically slow it down. That's why it is so important to start your dogs on a good joint supplement early on in their career. Other perks include reducing painful inflammation in your dog's joints, and also promoting healthy paws.
Chondroitin is most effective when combined with glucosamine & MSM. Many veterinarians will also recommend a high quality omega 3 supplement such as krill oil to help relieve joint stiffness, reduce inflammation, & improve blood flow. 
Looking For Help? Simplify Things
With the world around us getting more complex by the minute, people are starting to try to simplify their lives & diets as much as possible. They're starting to take notice of all the potentially harmful additives & preservatives in the things we put into our bodies. 
There are long term impacts (whether they be good or bad) that result from these inactive ingredients and we're starting to realize they might not be worth the perfect color, flavor, or even convenience if they mean poor health down the road. Our dogs & the things we choose to put in their bodies are no different. 

When selecting a supplement for your dog, it's important to factor in quality & the ingredients into the equation. Make sure you pick a supplement with limited inactive ingredients (we strongly recommend no more than 4-5) because at a certain point they simply aren't worth it. 

You also want to pick a form of supplement where you can fine-tune the dosage. Tablet & pill forms are great, but with supplements like glucosamine, chondroitin, & MSM you want to be able to control things a little more closely for the desired effect.  

With the convenience of these delivery forms you are also going to be exposing your dog to all sorts of inactive ingredients and additives. In or to get the supplements into tablet or chewable 
form companies have to add a ton of these additives (we've seen some top sellers with up to 27 inactive ingredients) that can be harmful to your dog. It also makes dosage adjustment very difficult.  

Dial In The Dosage
We recommend powder-based solutions so you can dial in the dosage of the supplements just right based on how your dog's body is reacting. Too little & you won't have the impact you were shooting for. Too much & you'll likely expose your dog to some unnecessary and unpleasant side effects. A powder form allows you to get that dosage just right.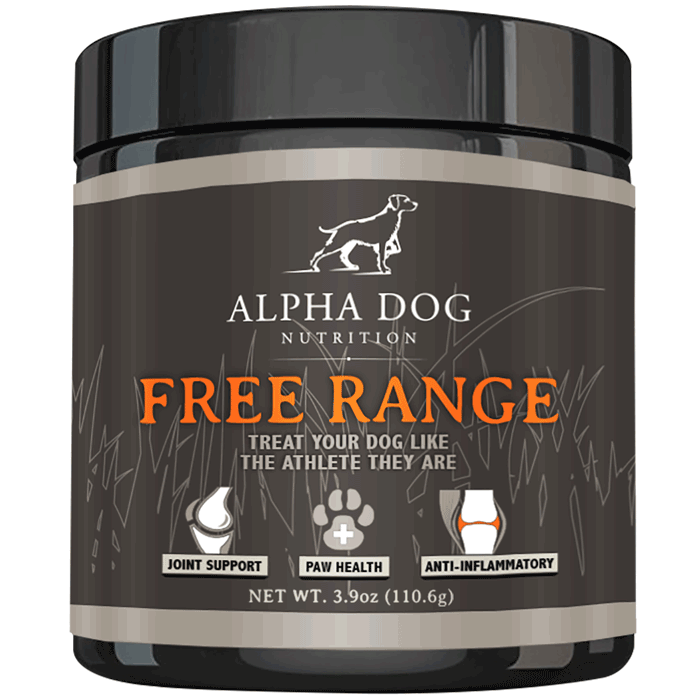 Served up in powder form, Free Range is one of the premier joint supplements on the market. Containing glucosamine, chondroitin, & MSM, it has been carefully formulated and manufactured right here in the USA to the highest of standards.
At Alpha Dog Nutrition, we believe that sometimes less is more. We've stripped away all the nasty additives and preservatives found in most other joint supplements, and we're giving your dog only exactly what they need to help their joints.
What people are saying about us...
I have a new favorite hat. Not only does this hat have the look I wanted that is eye catching, it has the breathable mesh that does let my head sweat too much. Great quality too!
Thank you for the amazing hat - it brought my husband to tears :) reminds us so much of our beloved Golden Retriever that we miss terribly :( It didn't arrive by Fathers day but it quickly arrived yesterday and I wanted to thank you for your fast and courteous service by personally calling to let me know it may not arrive by Sunday.
I've seen a great change in my dog, he's not as sore after a hunt and he has a ton more energy! 
Received my hat today. Absolutely love it!!! Thank you for the great product!!!!