"Vitality has relieved all of my dog's itchy skin/coarse coat issues! He is so shiny & no longer scratches!"
VITALITY ANTI ITCH FOr dogs
When you toss your dog a Vitality capsule once a day, you're aleviating dry, itchy skin, allergies, & dandruff. Don't force yourself & your dog to deal with skin & coat issues. It's too easy not to.
Give them that healthy alpha shine
Packed With Omega 3 Fatty Acids
Skin & coat issues are incredibly common in dogs, often because of allergies to food & their environment. It's easy to fix though. All it takes is a single Vitality capsule a day.
Vitality Delivers a shiny coat most only dream of
Alleviate dry, itchy skin & dandruff
What the pros have to say
I try to relate it to how we are in sports. The people that put the time & work in are the ones that have the most success on the field.
To go that extra step & take care of maintenance with their joints, coat, & recovery as well is just going to give you more time in the field over their career.

A HEALTHY COAT IN Less Than A Minute
Toss your dog a Vitality capsule on its own or put it in a treat to give them a coat that dog owners dream of.
Customer Reviews
Write a Review
Ask a Question
09/14/2020
Travis D.
United States
08/30/2020
fred g.
United States
easy to take
as it stands right now Lambeau appears to move better, no stiffness after excercise or nap time in combination with free range, he's a happy dog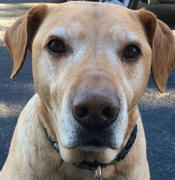 08/31/2020
Alpha Dog Nutrition
Great to hear Fred! We're pumped to hear it's working so well for ol' Lambeau, and being from right near Green Bay I'd also like to say awesome name selection! Have a good one, Joe Scott Founder & CEO Alpha Dog Nutrition
08/27/2020
James S.
United States
Great Supplement
Favorite supplement for my 9 year old bird dog.
08/26/2020
Matthew N.
United States
Vitality
Used to give our dogs 'fish oil' pills daily. Vitality is absolutely a better product! I have had a lab and drahthaar both on Vitality for a while now and their coats have never been so perfect. Thanks for another great product Alpha Dog!
08/25/2020
Kyle S.
United States
Vitality Omega 3 for Dogs
Great product! Just mix with our setter's food, not a problem. Will be ordering again.
Back to the top