When you combine the joint lubricating benefits of Free Range with Vitality, you're ensuring your dog has a career free of joint pain. Don't wait for your dog to start experiencing joint pain. Your dog will thank you for it!
YOUR DOG IS AN ATHLETE. TREAT THEM LIKE ONE.
Packed With Joint Lubricating Nutrients
65% of dogs over the age of 7 end up with some form of arthritis. For active, hard working dogs like yours, that figure is even higher. Start now. It's easier to prevent joint pain than it is to fix it once it sets in.
Give your dog the nutrition they need to thrive
Lubricate their joints to prevent aches & pain
What The Pros Have To Say
I try to relate it to how we are in sports. The people that put the time & work in are the ones that have the most success on the field.
To go that extra step & take care of maintenance with their joints, coat, & recovery as well is just going to give you more time in the field over their career.

Lubricate Your Dog's Joints In Less Than A Minute
Sprinkle Free Range on your dog's food & toss them a Vitality capsule to lubricate their joints.
Customer Reviews
Write a Review
Ask a Question
07/08/2020
J S.
United States
Excellent product with noticeable results
This is an excellent product. Our dog loves it and we see improvement in his mobility. He seems to have endless energy and recovers fast.
07/04/2020
Cristine R.
United States
Great Bundle
I have been wanting to try the vitality capsules for my Brittany's dry hair and extra joint support. He takes the capsules with no problem and has been on Free Range for months and loves it. Happy with this bundle!
07/03/2020
Chaz V.
United States
New dog???
This stuff is amazing. I've been feeding for probably 4 months now and have really seen a change in my dogs appearance and behavior. He's 8 years old now and its like he found a new gear. He's excited to go, he actually plays with the younger dogs, and it seems like he just feels better. Money well spent!
07/02/2020
Fred H.
United States
07/02/2020
lindsey e.
United States
ABSOLUTELY AMAZING
10/10- after one week of using the Joint Lubrication Bundle I noticed a huge difference in my 7yo German Shorthair AND his 6/7yo (rescue) GSP sister who I wasn't even intending to use the products on. Gage, my 7yo, was just diagnosed with elbow dysplasia and arthritis and has been limping lightly for 2 months. Zoey, my rescued girl, has no issues but it's hard to feed one something and not the other. A week before Gage's surgery we started the joint lubrication bundle and he was limping significantly less. Zoey was a new dog- eager to get out of bed in the morning and hunting lizards all day for hours on end- we've noticed such a drastic change in her energy level. My GSPs typically exercise for about two hours a day and this is exactly what we needed to help them feel like the young spring chickens they are. THANK YOU for helping BOTH of my pointers! Just ordered three Months more!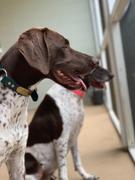 Back to the top