"Vitality has relieved all of my dog's itchy skin/coarse coat issues! He is so shiny & no longer scratches!"
Vitality Omega 3 for Dogs
When you toss your dog a Vitality capsule once a day, you're aleviating dry, itchy skin, allergies, & dandruff. Don't force yourself & your dog to deal with skin & coat issues. It's too easy not to.
Give them that healthy alpha shine
Packed With Omega 3 Fatty Acids
Skin & coat issues are incredibly common in dogs, often because of allergies to food & their environment. It's easy to fix though. All it takes is a single Vitality capsule a day.
Vitality Delivers a shiny coat most only dream of
Alleviate dry, itchy skin & dandruff
What the pros have to say
I try to relate it to how we are in sports. The people that put the time & work in are the ones that have the most success on the field.
To go that extra step & take care of maintenance with their joints, coat, & recovery as well is just going to give you more time in the field over their career.

A HEALTHY COAT IN Less Than A Minute
Toss your dog a Vitality capsule on its own or put it in a treat to give them a coat that dog owners dream of.
Customer Reviews
Write a Review
Ask a Question
12/02/2020
Jadon M.
United States
11/21/2020
Cade B.
United States
11/17/2020
Sherry B.
United States
Krill oil for my German Shepherd Dogs
I wanted to purchase a krill oil pills for my 2 German Shepherd Dogs before winter. The heat is on and they usually get a little bit of dandruff. One is worse than the other. I stumbled across your website a few months ago and I wanted to purchase your product before winter. The customer service was so fabulous I may have a keep them on the Vitality even through all 4 season's. They eat them in their dinner meal with no problems. They been on vitality for a few days so time will tell. Thank you for making a caplet form.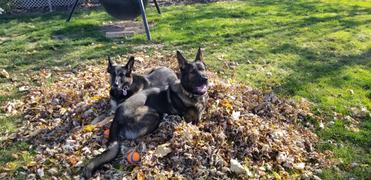 11/04/2020
Nathan B.
United States
10/25/2020
Milan H.
United States
Vitality Formula
My experiece so far has been good, but I will have to update in the future as my puppy has only been using this for about 7days.
Back to the top