When you throw a scoop or two of Free Range on your dog's food every day, you're ensuring healthy joints late into their career. Don't wait for the limping to start. Your dog will thank you!
YOUR DOG IS AN ATHLETE. TREAT THEM LIKE ONE.
Packed With Joint Lubricating Nutrients
65% of dogs over the age of 7 end up with some form of arthritis. For active, hard working dogs like yours, that figure is even higher. Start now. It's easier to prevent joint pain than it is to fix it once it sets in.
FREE RANGE IMPROVES JOINT HEALTH FROM DAY ONE
MOVE BETTER & EXTEND THEIR CAREER
WHAT THE PROS HAVE TO SAY
I try to relate it to how we are in sports. The people that put the time & work in are the ones that have the most success on the field.
To go that extra step & take care of maintenance with their joints, coat, & recovery as well is just going to give you more time in the field over their career.

Protect Your Dog's Joints InLess Than A Minute
Simply scoop onto your dog's food once per day to lubricate their joints.
Customer Reviews
Write a Review
Ask a Question
09/14/2020
James L.
United States
Happy Pibble
2 bottles in so far, dog seems to be responding well!
09/08/2020
Collin C.
United States
08/28/2020
CHARLES S.
United States
7yo Lab
My lab is walking with no limp after a year of having a torn tendon. This stuff is the real deal.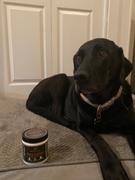 08/31/2020
Alpha Dog Nutrition
These are the stories we love to hear Charles! Glad to hear your lab is doing so well after an injury that significant. Have a good one, Joe Scott Founder & CEO Alpha Dog Nutrition
08/28/2020
Lindsay Z.
United States
08/28/2020
Stephen L.
United States
Not we irking
She's been on it for almost 2 weeks and I've not seen any difference she lays down and when she gets up she hobbles for 4 to 5 steps . I ordered another tub to try but if nothing improves after that I'll try something else . Thank you for giving me a chance to talk to you about what's going on with her right now .
08/31/2020
Alpha Dog Nutrition
Hey Stephen! We would typically expect results after about 30-45 days, so it's definitely still a bit early for your gal! Keep us posted on how things go after that second tub! Have a good one, Joe Scott Founder & CEO Alpha Dog Nutrition
Back to the top