Paw Relief
Customer Reviews
Write a Review
Ask a Question
12/29/2021
Awesome product
During training or hunting we push our athletes to the limits. Hunting or training in harsh conditions can do a number to the dogs pads. This product is great for cuts or sore pads. The ingredients are safe and geared towards healing your pup so they can get back in the field or marsh.
Lacey

United States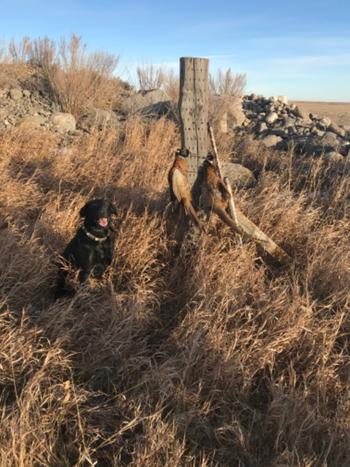 12/24/2021
Best product!
Very great product! Dogs don't mind it at all an makes there pads nice an healthy!
Preston P.

United States
11/28/2021
Paw performance
The Paw relief was great to have this year in North Dakota. The field hunts put their paws to the test and the paw relief kept my dogs performance at the best it can be. The dark dirt and wet fields can really affect your dogs performance. Thankful to have had paw relief to keep my dogs paws moisturized and ready to perform
Tyler S.

United States
01/18/2022
Great stuff!
I put this on my dog Duke's paws after hunting as they were very dry. After the initial application his his paws were smooth and no longer scratchy. I put a second application on a couple of days later and his pads are like soft leather. Great stuff!
Kenny W.

United States
10/09/2021
Side by side comparison
We applied the paw relief to our lab's paw for a week (we believed she had stepped on or hurt her paw on some rocks) and the difference between her right and left is incredible one is cracked and rough the other is smooth and soft
Kane M.

United States
09/21/2021
Paw Relief and alpha dog stack
My dogs paws were starting to get a little beat up after training in dry conditions. After just one treatment a day for a week as recommended, the rough edges disappeared. I also can't say enough about the aloha dog stack bundle! Even after a teen mile run behind the four wheeler, she isn't sure and still rearing to go! Thanks alpha dog! https://youtu.be/EZrhD-PRSoU
Wes E.

United States
08/12/2021
Worked in just a few days
Our dog has been having itchy irritated paws she has been licking and chewing on for a few weeks. She hates having her paws touched but tolerated us massaging this into her paws and she stopped licking in just a few days. Definitely recommend!
Sara H.

United States
08/11/2021
Soft Paws
Great product! Highly recommend.
Lisa M.

United States
Back to the top