When you combine the joint lubricating benefits of Free Range with Vitality, you're ensuring your dog has a career free of joint pain. Don't wait for your dog to start experiencing joint pain. Your dog will thank you for it!
YOUR DOG IS AN ATHLETE. TREAT THEM LIKE ONE.
Packed With Joint Lubricating Nutrients
65% of dogs over the age of 7 end up with some form of arthritis. For active, hard working dogs like yours, that figure is even higher. Start now. It's easier to prevent joint pain than it is to fix it once it sets in.
Give your dog the nutrition they need to thrive
Lubricate their joints to prevent aches & pain
What The Pros Have To Say
I try to relate it to how we are in sports. The people that put the time & work in are the ones that have the most success on the field.
To go that extra step & take care of maintenance with their joints, coat, & recovery as well is just going to give you more time in the field over their career.

Lubricate Your Dog's Joints In Less Than A Minute
Sprinkle Free Range on your dog's food & toss them a Vitality capsule to lubricate their joints.
Customer Reviews
Write a Review
Ask a Question
09/22/2020
Lance S.
United States
09/16/2020
Michael A.
United States
09/16/2020
David J.
United States
Different dogs
When Jeager and Aggie have been on Alpha dog for About 3 months I started noticing a difference. Instead of a nine year old and a seven year old I now have two pups, they jump over furniture, play fight, run around and cut up. Their field work has improved as far as ground covered and they don't seem to be as tired when it is time to go home. Love your product, you need to make a formula for old men now.
09/10/2020
Kyle W.
United States
Game changer for my dogs joint health
My chocolate lab was diagnosed with poly arthritis and the vets couldn't figure out how to help him. He walked around on 3 legs for months and the steriods they gave him helped his pain, but the side effects were ruining his quality of life. I took him completely off steroids and found alpha dog nutrition randomly on Instagram. I bought the free range and the vitality, and by the end of the first week my dog was running around like a spaz and his limp is 90% gone. Can't thank alpha dog nutrition enough.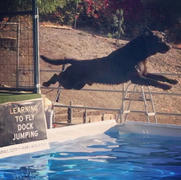 09/09/2020
Nathan N.
United States
Helped heal an injury with my dog
I've been using these products for almost a month now and already noticed a difference in my dogs coat, paws, and attitude. She recently had a ccl sprain so I started her on these meds. It's been a month and she's ready to be back to her normal self. Going to keep her on these products the rest of her hunting career for sure. Have recommended to my friends and they now have their dogs on these products. Couldn't be happier
Back to the top