Alpha Dog Stack
Includes:
Qty 1: Free Range
Qty 1: Vitality
Qty 1: Resurgence
Qty 1: Balance


Alpha Dog Nutrition products are shipped within 48 hours and delivered within about 4-7 days.
If you aren't completely satisfied with your product, return the container within 60 days of purchasing for a full refund, even if the containers are empty!
Customer Reviews
Write a Review
Ask a Question
07/08/2020
Anthony C.
United States
Wish you guys kept enough stock
The product is good. Dog is healthy and happy. Your inventory is too up and down though. Only real problem I have. Other than that, I'm happy to see the impact it's had on my GSP.
07/09/2020
Alpha Dog Nutrition
Hey Anthony! We sure do hear ya! Basically the only reason we're out of stock on this is our production lead times went through the roof due to COVID. We're in stock on everything but Balance Probiotic for Dogs, and we're pushing as hard as we can to get that back in stock. Hope this helps give a bit of background on what we're up against! Thanks for your business, & glad to see it's helping your GSP! Have a good one, Joe Scott Founder & CEO Alpha Dog Nutrition
05/21/2020
Sreya
United States
05/14/2020
Elijah D.
United States
Great product for a great price
My 9 month old chocolate lab loves his morning feeding because he knows that his " pick me up " is coming. He has so much energy when he goes out to train for the up coming pheasant season and everything in this bundle helps him focus when its time to work. Would recommend all the products with out hesitation
04/24/2020
Dustin S.
United States
Alpha Dog Stack
I've started my lab pup (Rooster) on the Vitality and Balance. Rooster is only 12 weeks old and I started him on the supplements when he was 7 weeks old. He stands out compared to all the other pups that were in his litter! His coat is beautiful and shiny! And he's got so much more drive than the other pups! I plan on starting him on Free Range and Resurgence when he's at least 9mo. old. If it's anything like the other products, I'm sure it'll put him a head and shoulders above the other dogs. I'm a believer in Alpha Dog products!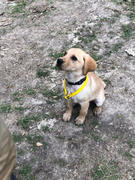 04/17/2020
Kyle V.
United States
The best
My 10 year pup is back to life , and keeping my 1 year old in top shape, never use any thing like this but now I'm sold on it great stuff
Back to the top