When you give your dog a scoop of Resurgence after a big day of exercise, you kick-start the process of rebuilding muscle & replacing critical nutrients lost through sweat & urination. Help them bounce back faster to prevent fatigue & injuries. Your dog will thank you!
HELP THEM BOUNCE BACK FASTER
PACKED WITH CRITICAL NUTRIENTS
Help your dog's body recover faster to avoid fatigue & resulting injuries. Start now. Alpha Dog Nutrition's Resurgence gives your dog the high-grade nutrients that it needs to recover quickly. Simply scoop the powder with high quality ingredients onto your dog's food & they'll be good to go.
Resurgence gets your dog back in the field faster
HELP YOUR DOG PREVENT FATIGUE INJURIES
What the Pros have to say
I try to relate it to how we are in sports. The people that put the time & work in are the ones that have the most success on the field.
To go that extra step & take care of maintenance with their joints, coat, & recovery as well is just going to give you more time in the field over their career.

RESURGENCE IS READY IN Less Than A Minute
Scoop onto food after a big day or exercise to promote faster recovery.
Customer Reviews
Write a Review
Ask a Question
09/19/2020
Suzanne B.
United States
Alpha dog
Love your product. My 11 year old lab is more active and playful. She runs a bit more and plays with two 8 month old puppies!
08/28/2020
Paul R.
United States
Love this stuff
This stuff is great. Used it last year with my 6 year lab. Man what a difference this stuff makes fir recovery. I went ahead a made sure I had it for this year. Awesome product Joe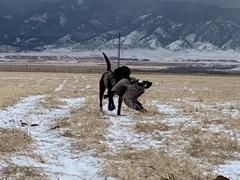 08/31/2020
Alpha Dog Nutrition
Great to hear you lab is bouncing back in a big way Paul! Also that's an incredible photo there with the mountains in the background! Have a good one, Joe Scott Founder & CEO Alpha Dog Nutrition
08/21/2020
Camden D.
United States
07/03/2020
Patrick K.
United States
Great health suplement for your dog
I use this product for my 1.5 year old GSP. Previously after a few long days of working in the fields and hunting I noticed he would have a limp for a day or two. Not wanting this to become a major issue I purchased Resurgence and Freerange to give to him. While it was not an immediate fix I did see a huge difference in his recovery over the next week or so. He would put more miles on in a day and be ready to get back at it in the morning. I will forever be a customer of Alpha Dog Nutrition a I am forever grateful for offering these products. They are truly looking out for your dogs best interest in the long run and I cannot wait to see what they are coming out with next.
06/27/2020
shawn T.
United States
Great product!
I've recently just started using the alpha dog nutrition products and can honestly say I am already seeing changes in both my 4 year old and 1 year old shorthairs in just the first month! Can't wait to see the results over the next few months
Back to the top