OptiPup contains 31 essential vitamins, minerals, probiotics, and superfoods that support your pup's immunity, gut health, focus and body. OptiPup is carefully crafted using some of the world's most premium and potent ingredients.
COMPREHENSIVE AND CONVENIENT DAILY NUTRITION
LOW ALLERGENS
No Chicken or Poultry Meal, No Herbicides or Pesticides, No Artificial Colors, Flavors, Preservatives or Sweeteners.
The first year of your dog's life are some of the most critical
Perfected over dozens of revisions
A breakthrough blend of immunity mushrooms, Vitamin C, and other vitamins and minerals help stimulate & regulate your pup's immune system to prepare it for everything life is about to throw at it.

Build A Rock Solid Foundation InLess Than A Minute
Simply scoop onto your pup's food once per day to set them up for success.
Customer Reviews
Write a Review
Ask a Question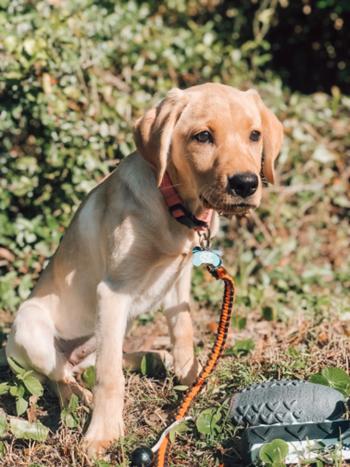 06/15/2022
Have seen amazing results so far!
My pup was having very dry and it hy skin. After changing her food multiple times I still was not getting the results she needed. After hearing great reviews about the other products from alpha dog and seeing they came out with a puppy formula I had to give it a shot. After using it her itchy dry skin has improved so much! Her coat looks amazing and she is growing the way she could. I think every owner should have their pup on this!
Nicolas G.

United States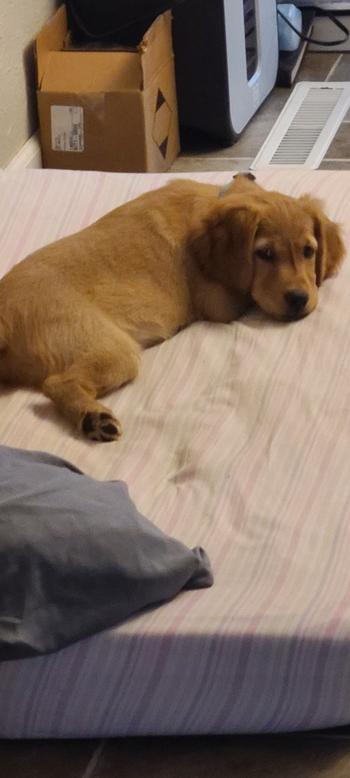 06/06/2022
Not sure
Not sure. Nothing to compare it too. Breeder sent a sample home with him so, no before or after comparison.
Bradley S.

United States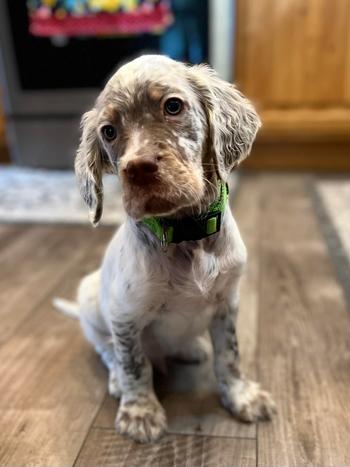 05/25/2022
OptiPup
I am a big believer in pre & probiotics and vitamins/supplements for my dogs. Pups respond very well to Optipup....their coats and skin have a healthy appearance. Nice formed stool that ensures me of a healthy digestive system. Happy and energetic pups. Optipup ensures me that my pups will be as healthy as they can be when going to their new homes. Great product!
Debra B.

United States
05/19/2022
Amazing !
We swear by alpha dog, our 4 year old chocolate lab has used it all four years! We just brought home our yellow lab who is now 10 weeks old, and when I saw alpha dog came out with this puppy powder I had to try it. Our puppy loves it !! His nose is up on the air every day as soon as I open the container, he looks great ! I cannot give alpha dog products a higher recommendation!!! I have told so many, our entire family uses alpha dog products, so if you're wondering if you should get this for your puppy .. do it and the bottle is huge !! Thank you for keeping my beautiful labs so healthy !
Selena

United States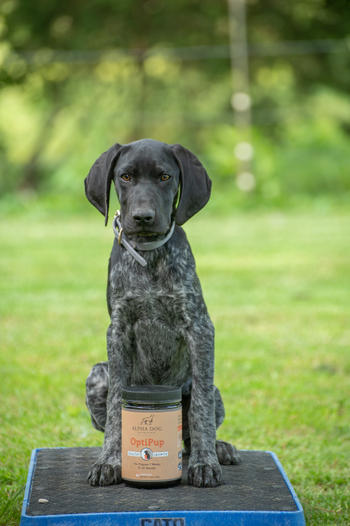 05/18/2022
Will use and reccomend
We recently tried some Optipup from Aplha dog nutrition and I highly recommend this supplement. Our two keeper puppies were starting to go into a growth spurt and were getting lean and lanky. As a breeder I know this is an important time to ensure that young dogs are getting the best nutrition possible to grow into healthy well rounded hunting dogs. I started them on Opti-pup and their coat improved, they really filled out in just the short time I started adding it to their food and their appetite increased. Usually around this time frame puppies start becoming picky eaters but they finished every kibble. Over the years I have done a ton of research on supplements for dogs and puppies and all of the listed ingredients are great for dogs. Most specifically the green lipped muscle to aid in stud dog health and joint health. I'm happy to see a small company finally making the supplements we need to keep our dogs thriving in the field here at Nosam. I will be recommending this to all my puppy families.
Sierra C.

United States
05/17/2022
I would highly recommend
I brought home a puppy that just wasn't thriving like I expected. She seemed to be eating fine, but wasn't gaining weight and didn't have the energy a GSP should have. I started her on OptiPup and within the week we noticed her energy coming back and she was acting like a puppy. After two weeks she had noticeably put on weight and has a healthy glow. I'm so impressed at how quickly she's turned around and very grateful that we were able to find a supplement that worked so well on her.
Lea B.

United States
06/18/2022
OptiPup Highly Recommend
Highly recommend! We picked up our pup and we put her on this when we got her home and she has came a long way since then in over all coat and condition! Love this product!
Tisha R.

United States
06/15/2022
Amazing results!
Knox has such dry and itchy skin! After using these I have seen nothing but great results! Her skin is now healthy no rashes anymore from dry skin and her coat looks amazing! I will continue to use this great product!
Nicolas G.

United States
06/15/2022
Amazing stuff!
My pup had really dry and itchy skin, after changing her food multiple times trying to help it, I found alpha dog. Once I realized they were coming out with a puppy formula I could wait to try it. Within just a short period her dry and itchy skin has went away! Her coat is looking better than ever and she's growing in such a healthy way now! I will continue using this until I switch her over to the adult alpha dog products!
Nicolas G.

United States
Back to the top